The Nova City, Islamabad, is an upcoming and emerging real estate housing project in the federal capital. Basically, this housing society is developed to provide a central location between twin cities with state-of-art infrastructure at affordable rates. This project aims to target all budget genres of people of Pakistan. In the future, this real estate project is going to compete with the mega real estate projects of Islamabad, Pakistan. According to property insights, Nova City has a top-notch investment potential.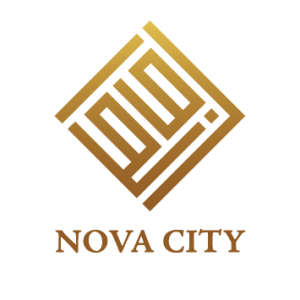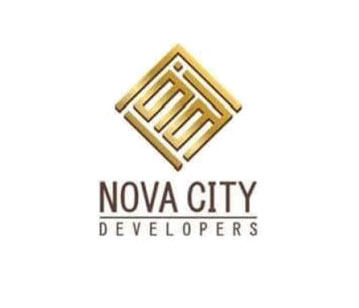 Nova City Islamabad Owners & Developers
the nova city developer  are the Nova city  owners and developers. the firms is well-knows for its several real estate developments, its high-quality infrastructure, and timely delivery, Nova City developers is owned  by Mr.junaid Afzal . then previously developed the Nova City school system, which  is now active in new city wah cantt and others locations . they are now working diligently to create a state-of-art residential and commercial setting in the form of the Nova City Islamabad. 
Book Your Plots at the Best Prices! Now you can book residential plots for sale in The Nova City, Islamabad.
Nova City NOC Update
No Objection Certificate (NOC) plays a vital role to increase the worth of any real estate project. As Nova City is in its launching phase, so the No Objection Certificate (NOC) is yet to be granted to this scheme by the concerned authorities. Soon, the management of Nova City will be able to get NOC, and after that, this land will become the apple of the eye of investors.
Nova City Islamabad Master Plan
Nova City Islamabad master plan is developed on one vision – developing a futuristic residential and commercial setting but preserving the serene and natural views of the location. In a nutshell, the community is designed to offer modern living with a touch of nature. Highly skilled architects and engineers employ cutting-edge technology and techniques to elevate Nova City compared to all other housing societies in the twin cities
The Nova City developers got assistance from internationally recognized developers to develop the master plan. In the pre-launching phase and for a while after launch, only residential plots were available for investment. Recently, commercial plots are also launched in the market which is also receiving an overwhelming response like the residential plots.
One important thing investors should know is that the Nova City Islamabad master plan's full form is not public yet. Because of the ongoing NOC procedure, the administration has not made it public. According to official sources, the community would adopt a division plan based on sectors, stages, and blocks.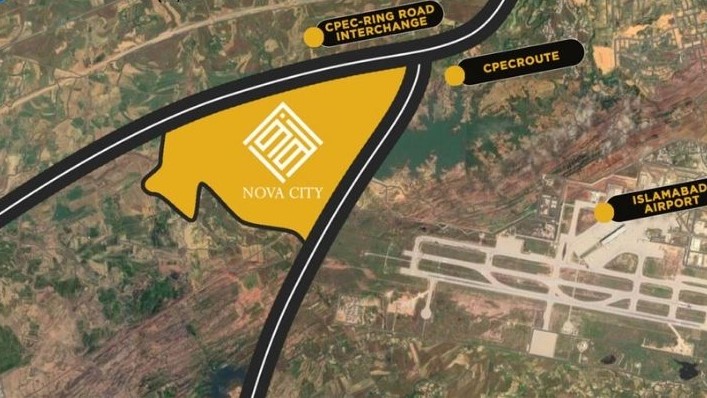 Nova City Residential
Nova City residential plots for sale are available in the following sizes:
5 Marla
10 Marla
1 Kanal
2 Kanal
Nova City Residential Plots Payment Plan
Nova City's owners have officially announced a  payment plan for investors and interested people. The price distribution of The Nova City as per plot categories. These residential plot cuttings from The NC are quite appealing and affordable, so it'll be beneficial to avail prelaunch rates because the prices are going to rise in near future.
As the prices of NC are quite affordable, the installment plans of NC are also very customer-friendly. On all plot categories, the investors can avail 40 monthly installments and 8 half-yearly installments.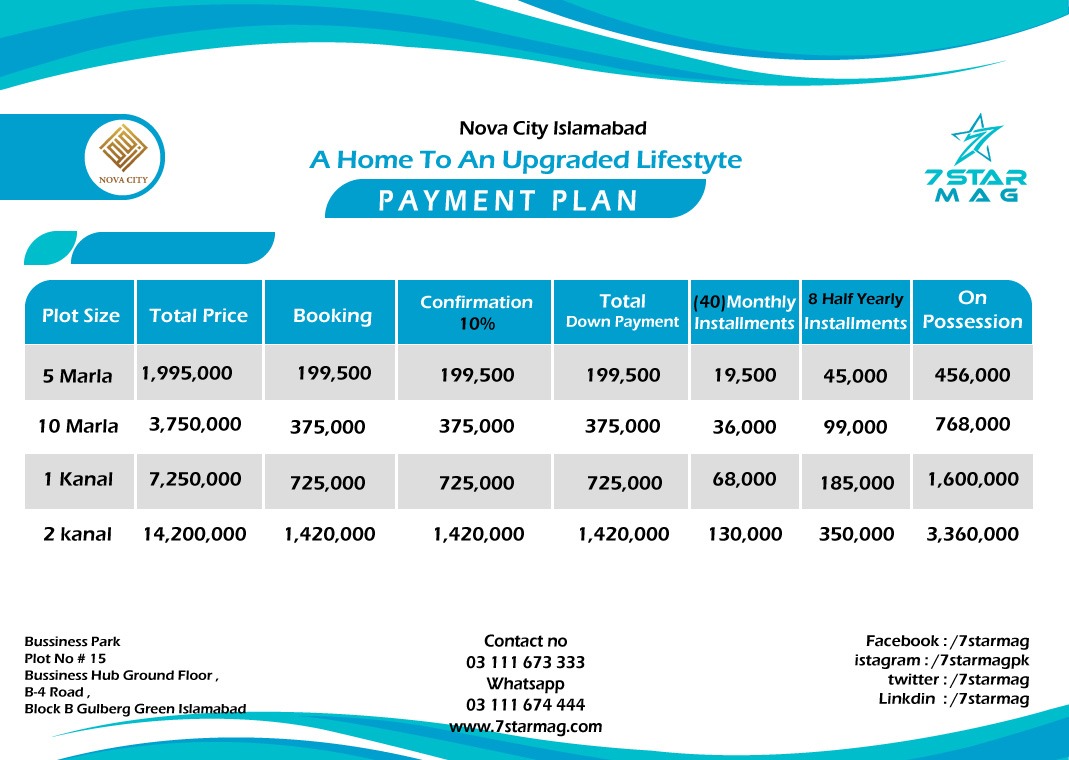 NOVA CITY 3.5 MARLA RESIDENTIAL PLOTS
Nova City Islamabad is a magnet for investors because this society is offering affordability & luxurious features. Keeping in view the attraction of investors, the management of Nova City leaped forward and has included a new plot category in the residential plots portfolio. Recently, the concerned authorities of this society have launched 3.5 Marla Residential plots to facilitate the investment vision of people with low budgets.
The 3.5 Plots are offered in the state-of-the-art residential block of the society where all top-notch and advanced amenities will be provided. Right now, Nova City 3.5 Marla Residential Plots are the center of attraction for both investors and residents.
NOVA CITY 3.5 MARLA RESIDENTIAL PLOTS PAYMENT PLAN
3.5 Marla plots in this society are a value for money investment. The plots are available for booking at just a 20% downpayment and can pay the rest in easy installments.  The total cost of 3.5 Marla Residential Plot is  1,275,000/- and booking starts from 127,500/-. After bookings, the investors can pay the remaining amount in 40 monthly installments. No doubt, 3.5 Marla plots in this gated community is a highly affordable yet profit-yielding investment and residential opportunity.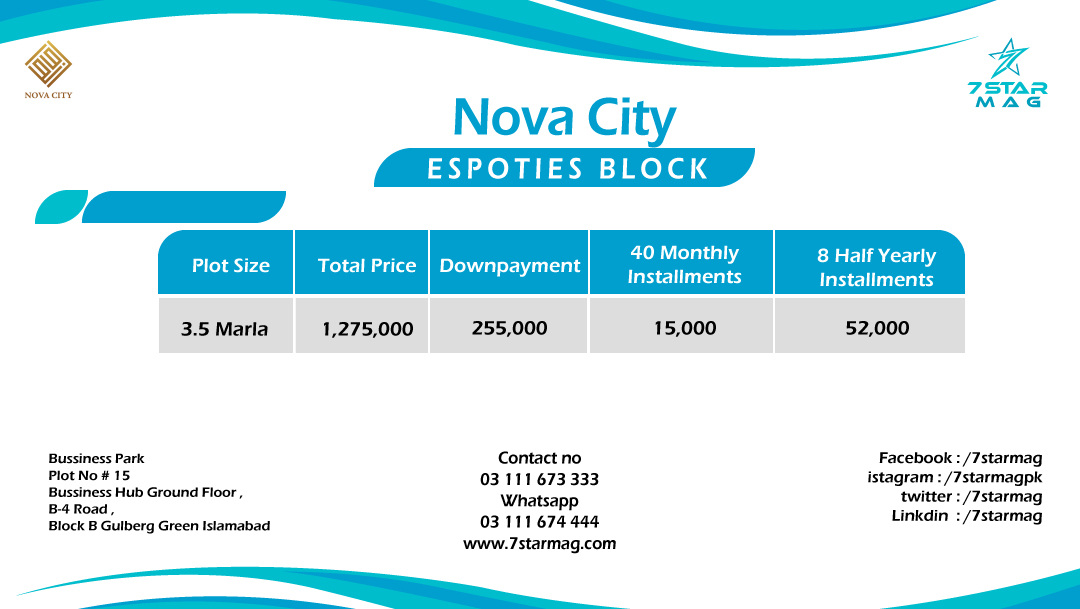 Nova City Commercial
Nova City commercial plots are the most recent launch of the housing society. Currently, commercial plots are available in two sizes:
 4 Marla
8 Marla
For now, these plots are available in very limited numbers and their prices are surprisingly low. There are just pros to investing in Nova City Commercial. If you are considering investing in some project where the returns are guaranteed, this is one of the best available options in twin cities.
The master plan also gave the structure of the Nova City payment plan. Generally, the payment plan which is currently applicable on all plots are:
 10% booking
10% on confirmation
40 monthly installments
8 half-yearly installments
The remaining amount on possession
To facilitate the residents even further, there is a 10% discount on 100% payment and a 5% discount on 50% payment. Moreover, there are 10% extra charges for category plots i.e. corner plots, plots in front of the main boulevard et cetera.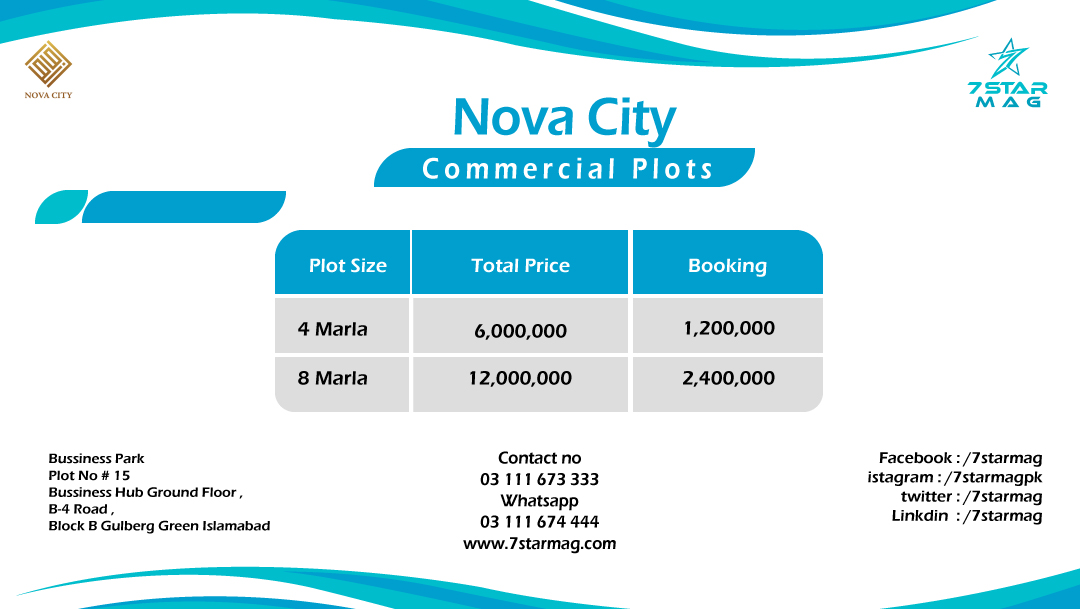 NOVA CITY ESPORTES BLOCK
Recently, the management of Nova City Islamabad has launched a fresh addition in the society with the name Esportes Block. This block is a new addition to society's luxurious portfolio, and people are showing keen interest in this state-of-the-art block. This block is located at a premium location within the society and is easily accessible from the main entrance of the society from the CPEC route.
As the name describes, Nova City Esportes Block features all the latest sports facilities. Here, the residents will be able to enjoy all sorts of domestic and international sports facilities, along with some recreational amenities. This block features sterling amenities for the resident like Nova City School, Cycling Tracks, Multipurpose football stadium, cricket stadium,  and much more. This block is the premium residential destination within the society where the residents will be able to enjoy a healthy lifestyle.
ESPORTES BLOCK Plot categories
In this block, the owners of this society have offered the most demanded and anticipated residential plot categories. The plot categories are:
ESPORTES BLOCK PAYMENT & INSTALLMENT PLAN
As this block is in the pre-launch phase, the plots are available at pre-launch prices which are kept very minimal. Esportes Block Payment Plan is designed in accordance with the luxurious features offered here. 8 marla residential plot is launched at 40.40 Lacs and the booking amount is 8 Lac 10 Thousand PKR. 14 Marla will cost 67.50 Lacs and the booking starts from 14 lacs 25 thousand. As per Esportes Block Installment Plan, the remaining amount after the booking has to be cleared in 40 monthly installments.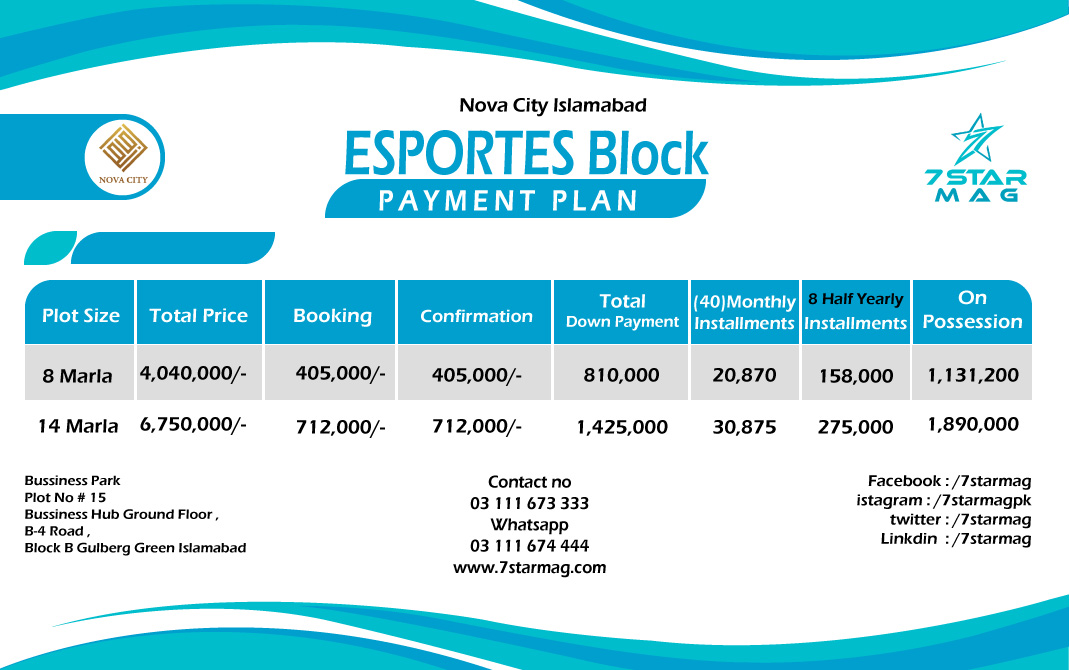 ESPORTES BLOCK DEVELOPMENT UPDATE
The concerned authorities of this society have organized the inauguration ceremony of this top-notch block on 9th January 2022. The launch event was performed with full zeal and zest and investors have shown a huge interest in this block.
Nova Group has held the introduction function of Esporte Complex alongside the initiation ceremony of Badminton Court and Football Court. The development work in this block has started and it'll be fully developed soon.
Nova City Location
Nova City is located at a prime location in the federal capital. This area is highly lucrative for travelers because it is a few kilometers away from the New Islamabad Airport. All these geographics adds up to the value of Nova City, Islamabad, and the residents and investors will enjoy easy access to the main cities and close transportation facilities.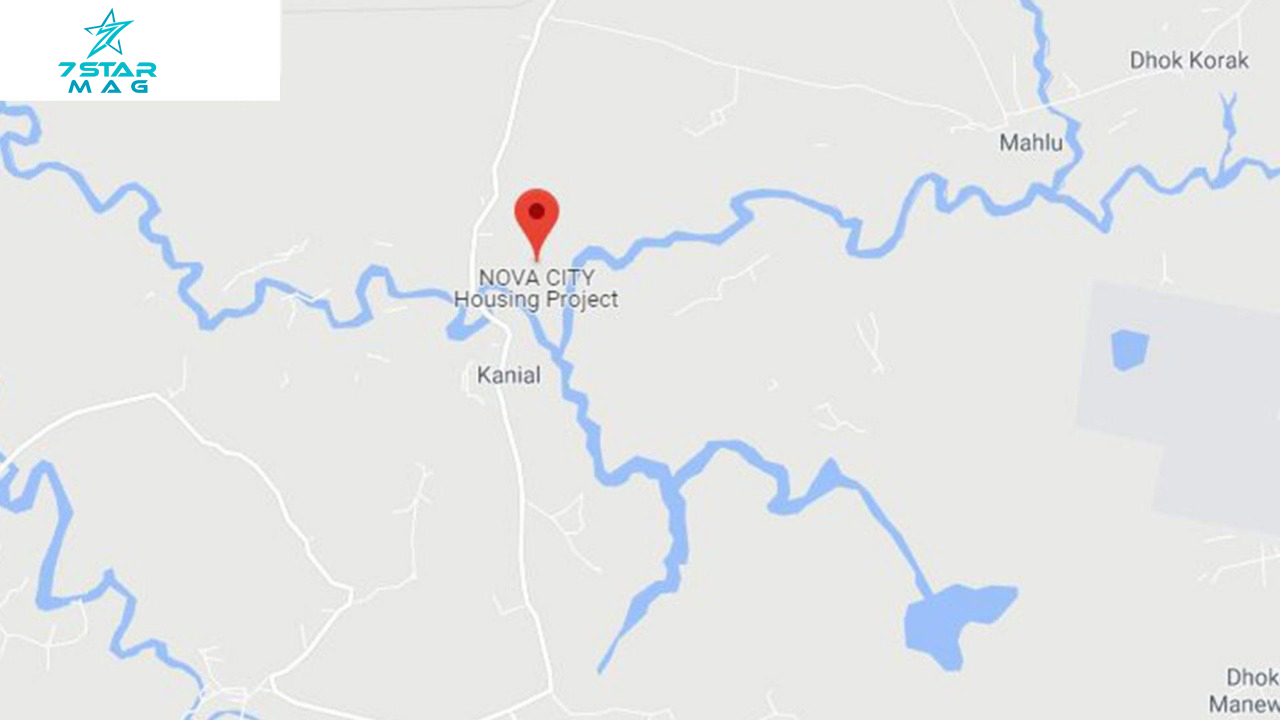 MAIN ENTRANCES & ACCESS ROADS
This scheme has a main entrance that is accessible from the Rawalpindi Ring Road, and the backside of this area is also linked with the CPEC Route. Also, one of the main entrances of this scheme is on the Bongo Kanial road.
It is right next to CPEC Ring Road Interchange. Also, this housing society has easy access to the Lahore-Islamabad M-2 motorway, therefore this project offers a central and secure living.It is at the center of twin cities and easily accessible from both Rawalpindi and Islamabad. The estimated time to reach Rawalpindi and Islamabad from Nova City is almost 31 minutes and 26 minutes respectively. Many famous destinations are located near this real estate vicinity.
The nearby places and landmarks near the Nova City, Islamabad are:
Capital Smart City
Blue World City
Top City-1
Fateh Jhang
Eco Housing
Expo Centre
ASF Flats
Attock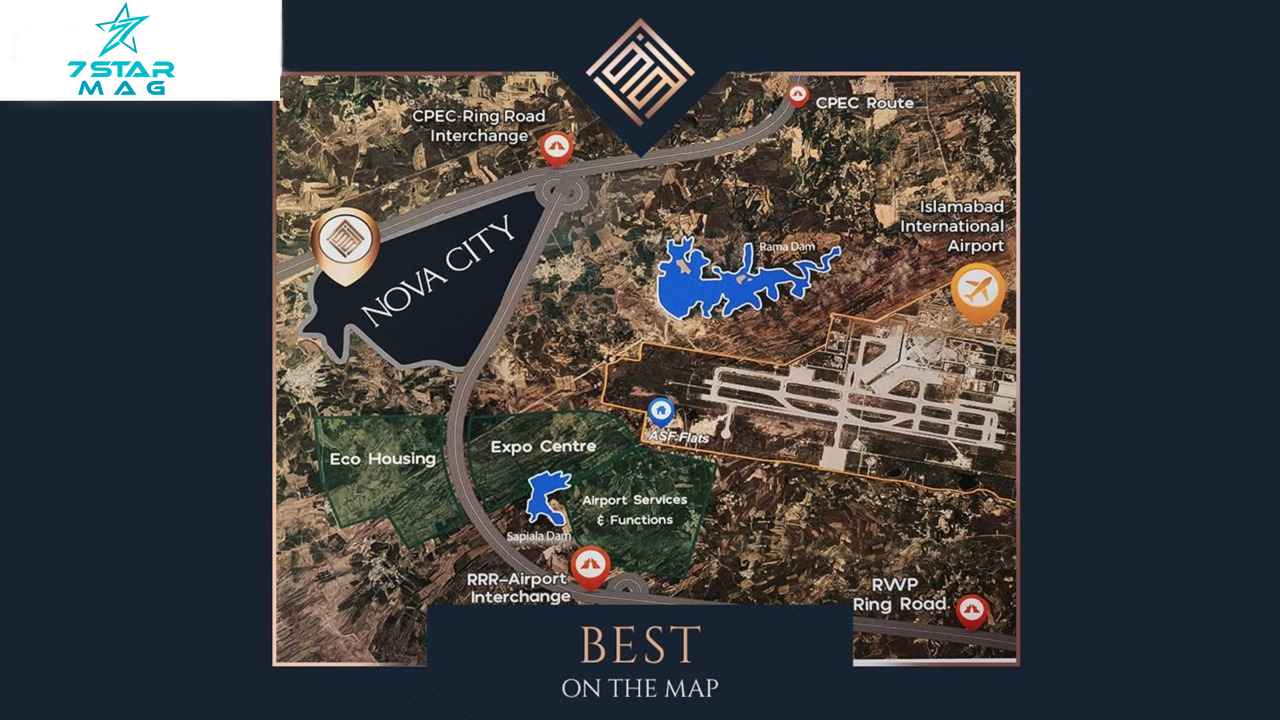 NOVA CITY ACCESSIBILITY
This splendid real estate venture owns the crown of a central location in Rawalpindi and Islamabad. This area is accessible from twin cities and other nearby areas in the following ways.
Right next to the main CPEC route
Almost 3 minutes drive away from Kanal
9 minutes drive from Dhok Korak, and almost 8 minutes drive away from N-80, Qutbal, Attock
Almost 25 minutes drive away from M-2 Motorway
Almost 31 minutes drive away from Rawalpindi
21 minutes drive away from New Islamabad International Airport
Almost 26 min drive away from Islamabad
Right next to the CPEC-Ring Road Interchange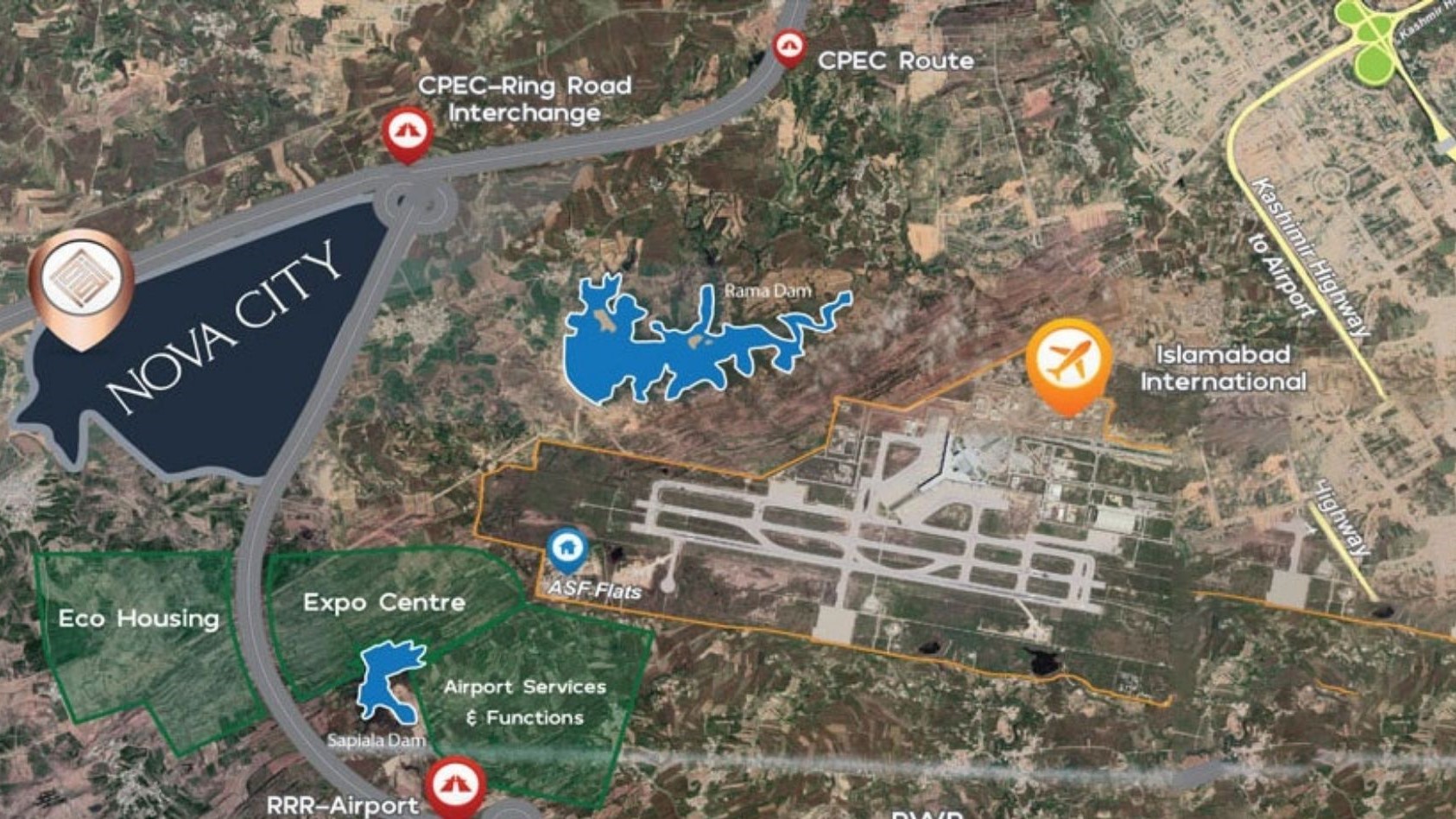 WHY INVEST IN NOVA CITY…?
The NC is one of the amazing upcoming real estate ventures that has a great investment potential. This society is going to deliver a promising future to residents and investors in terms of infrastructure, convenience, quality neighborhood, amenities, lifestyle, and long-term revenue generation.
With all the attractive features, beautiful landscapes, and elegant design structures, not only the beauty of Nova City is enhanced but also Nova City's worth has increased. In short, prime location, secure and gated atmosphere, efficient sewerage, standard educational facilities, etc. are all those features that buyers look for when buying a residential property.
Right after entering into the developmental phase, all the future extension plans of this project would increase the buyers' demand, which in turn would increase the demand of this project, and eventually, it'll benefit the investors in terms of return on investment.
Nova City Booking Process
NC offers an easy booking process by keeping in mind the convenience of investors. Here are the easy steps of the booking process.
The investors have to pay almost a 10% down-payment for their desirable plot.
After the down-payment, the investor has to pay 10% confirmation charges.
Then, to get the procession of the plot, the investor has to pay 40 monthly installments.
DOCUMENTS REQUIRED FOR RESERVATION OF A PLOT IN THE NOVA CITY. For booking a plot in this amazing residential project, you need to provide the following documents:
Copies of computerized CNIC
Passport size photograph
Front and back of next of Kin's CNIC
Copies of receipt of confirmation fee and down-payment
TERMS AND CONDITIONS:
Here are some terms and conditions that you have to keep in mind while following the booking process of plots in Nova City Islamabad.
In case the investor fails to confirm the plot in 45 days, then the property cancellation will take place automatically. In this situation, 75% amount will be refunded to the investor, within the tenure of six months.
The investor will get a 10% discount on full payment and a 5% discount on a 50% payment of the property.
Recent Developments in Nova City Islamabad
There is a lot going on at the site of Nova City Islamabad. Here are the highlights of some of the recent developments on the site.
65 to 70 percent cutting procedure done. Machinery working on-site day and night
Sports complex inauguration scheduled in upcoming days. World-class complex with both indoor and outdoor sports facilities. Indoor court and grand tennis courts, football court, and a basketball court. Fully functional already
Parking and some roads are complete
Mosque construction underway
Both indoor and outdoor gyms complete
From several parks planned in Nova City master plan, 2 parks are completed
Order placed to import water filtration plants
Cutting of Nova City Commercial plots for sale also underway
Nova City Islamabad NOC application is also under view by concerned authorities
FREE CONSULTATION If you are interested to invest in Nova City, Islamabad, then the first step is to consult a real estate agency to keep the process safe and legal.
MAG Company  is ready to serve you in this regard…!
Our specialist will guide you throughout the plot booking process with detailed knowledge regarding investment offers, payment plans, location, legalities, and the returns on your investments.
You can get in touch with us by dialing our (+92) 3111 673333 listed on the website or by providing us with your basic contact info. We are just one call away from you. In case you are interested to fill the form, fill it with all necessary documentation,  and then submit it. Our specialized person will guide you about the standard operational procedures.
Book Your Plots at the Best Prices!  Now you can book residential plots for sale in The Nova City, Islamabad.
Features & Amenities of The Nova City, Islamabad
EDUCATIONAL FACILITIES
The management of NC is concerned about the provision of standardized educational facilities within their residential project. Many specialized schools & colleges will be developed to facilitate residents with quality education.
BASIC HEALTH FACILITIES
The residents of NOVA CITY are going to enjoy standard and world-class health facilities. Throughout the area, many clinics, hospitals, and pharmacies will be developed where trained doctors and para-medic staff will serve.
RECREATIONAL FACILITIES
Society is eager to provide all sorts of entertainment and recreational facilities to the residents like a zoo and multiple parks. The developers of the city have planned a top-notch zoo and beautiful park within the premises of NC.
HIGH-END SHOPPING DESTINATION
The NC will be a great location for shopping destinations including all sorts of grocery stores, malls, and super marts to facilitate residents. Soon it'll be a commercial hub.
BASIC FACILITIES
Nova City Islamabad has an appealing infrastructure along with modern facilities and luxuries including a Main Entrance & an amazing Outlook, Wide Main Boulevard, Wide Roads, easy accessibility.
GATED COMMUNITY
In NC safe and secure environment is maintained with all means like security guards, CCTV footage, a central security system.  Also. 24/7 gas, water, and electricity supply will be ensured.
Nova City Frequently Asked Questions
Is Nova City An Approved Housing Society?
No, the NC is yet not approved by concerned authorities and its NOC is under process. Soon the concerned authorities will be able to get the NOC approved.
What Is Special About The Nova City, Islamabad?
The NC is among those residential projects that are offering state-of-the-art infrastructure, appealing master plans, and world-class life amenities at prime locations and affordable rates.
Is The Nova City An Affordable Real Estate Project?
Yes, this housing scheme is quite affordable even for common people. 
Does Nova City Offer Easy Payment Plans?
Yes, the management of NC  has offered flexible and easy payment plans.
Are Development And Construction Happening In The Nova City?
Yes, the construction and development work has been initiated in this area, and soon the work will be in full swing.
What are the available Plot Sizes?
The NC Islamabad offers 5, 8, and 10 Marla along with 1 and 2 Kanal Residential Plots.
Is Nova City Worthy to live for residents?
This housing scheme is going to provide a healthy, safe, secure, and clean environment so it will be one of the prime areas for living. Also, all the facilities will be provided to the residents that they can think of, so living here would be amazing.
Does This Society Have Potential To Return On Investments?
Yes, this society is going to deliver guaranteed profits shortly. After the official launch of this real estate project, it'll be in the limelight so the return on investment is guaranteed.